Artists•Johanna Tagada Hoffbeck
Discover the artists behind the books
Self-portrait: Tea in Alsace, Series Safe Space, 56 x 39 cm, 2020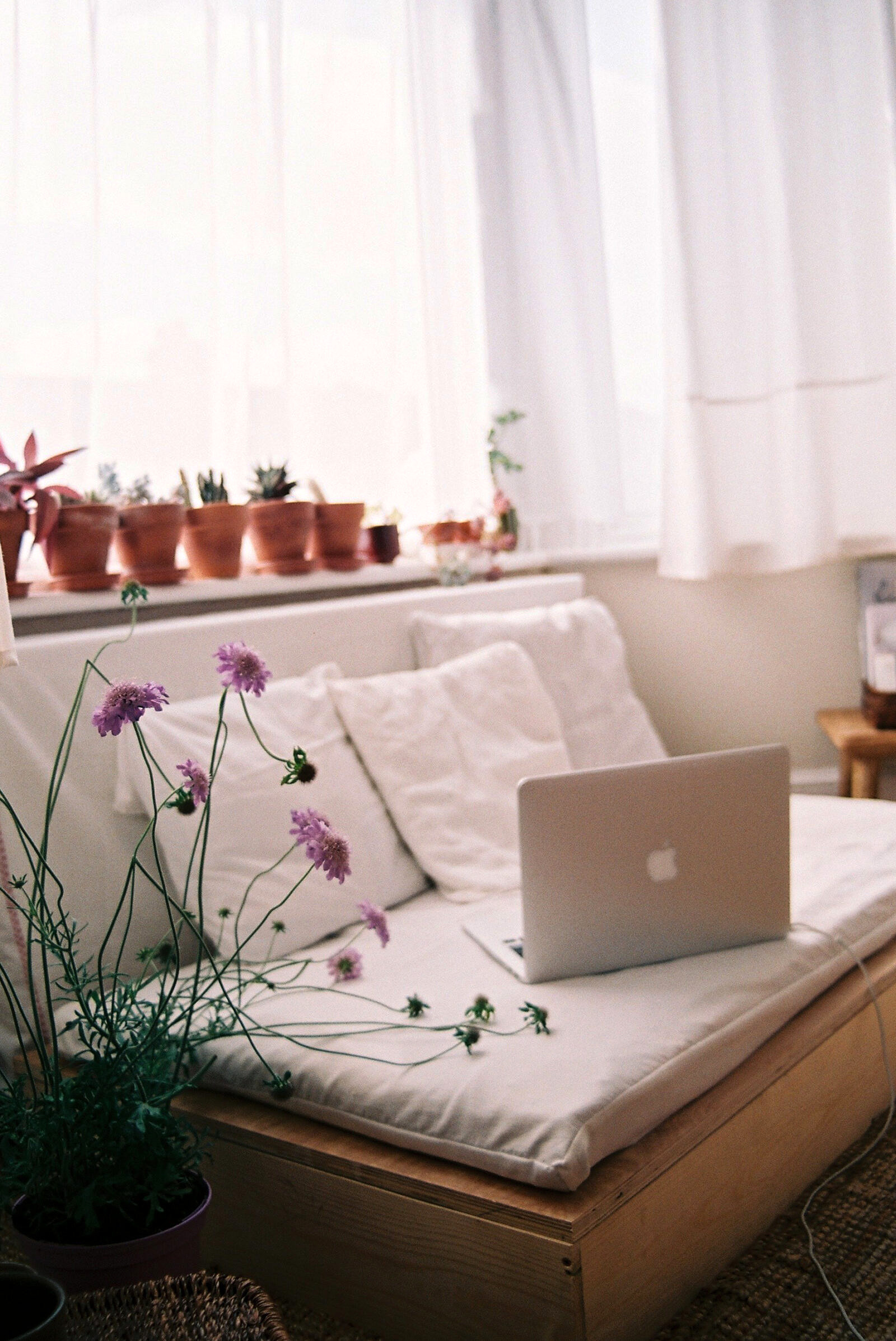 Plants in my studio
Johanna Tagada Hoffbeck (b.1990) is living and working across London (UK) and rural Alsace (France).
– Home and studio — together or apart?
Together. My ateliers have always been rooms or spaces within the houses or appartements I have lived in. When the weather allows for a comfortable practice; I also work outside in the garden close to the ground or on a rooftop as in India, I adore this intimacy with vegetables, flowers, insects, wind and sun. This is a simple reflection of how my life and artistic practice are gently intertwined, nurturing one other constantly. The simple difference is that my ateliers hold the materials I make, collect and use to create the pieces, the workspace also stores a part of the publications I self-publish via Poetic Pastel Press since 2015. The ateliers are usually 'fuller' than other rooms at home. In London, my last atelier was also the space where dinner would be shared with friends, I would remove everything from the large table and that is where we would sit, in the middle of artworks playing the same CDs that I do in the day.
– Do you have any daily rituals?
Yes, the ones I like to openly share include preparing tea, drawings in a sketchbook, taking care of plants, cooking, doing something for someone, aromatherapy and some breathing exercises. As I mentioned cooking I would like to share, also as I believe such shift is required for our generation, that I eat local plant based food only and that for years, it proved me with strength and happiness, that to my body, mind, and also to know that I do not actively contribute to the death of living beings.
– What is the first art book you remember?
Two classics children's book in France. The first is Babar by Cécile de Brunhoff and Jean de Brunhoff and the second is Petit Ours Brun by Danièle Bour, I like how gentle these drawings are, still today.
– What is your studio/creative soundtrack?
I play CDs in a player designed by Naoto Fukasawa for Muji. Playing CDs prevents me from the distraction that would be going on my laptop to look for and play music. Knowing myself I would then always find an email to reply to and so forth. I also like the physical experience of CDs, the artworks on the covers. One of my dream is actually to have some of my paintings as a CD cover. The ones I listen to a lot include Takagi Masakatsu, Alice Coltrane, Yasuaki Shimizu, Gontiti , Solange, David Edren, Haruomi Hosono, Hiroshi Yoshimura, Midori Takada, Jatinder Singh Durhailay, Green Butter and Akira Kosemura.
– What is the favorite thing you have in your studio?
Everything that is in the studio is a favourite really. That why it is there, I only acquire and keep objects including ceramics and books, that I have a particular sentiment for or admiration towards. Each piece and plants hold an ephemeral narrative, a moment with a friend, a day at a certain location, a voyage, a stroll, a cutting of a plant offered by friends when visiting them, a family photograph, … Plants are not 'things' yet they are my deepest attachement and simultaneously the ones I often need to donate as I relocate. Plants, as they also hold life, looking after them somehow is a way to look after myself as my grandmother used to simply say. No matter how small the studio, the light reflecting on the wall, on the leaves, the certain stillness of the plants and the musical notes echoing on the pantings lingering against the walls, that sight feels me with joy.
– Did you always want to be an artist?
As I child I wanted to become a dancer, or a painter, or hold a bookshop or library.
– What does a free day look like?
I have the chance to say that so far, in a happy way, free days look a lot like working days. Except I might sleep more, not check my emails and turn the wifi off. I am very passionate about what I do and about what interests me including cooking, horticulture, gardening, vegetable farming, architecture, literature, languages, dance and arts in general. I also really love my friends and family and we talk on frequent basis. For two years I had this practice of no wifi Sundays.
books & objects